Star rating: 5/5 stars
Synopsis: via Goodreads–
First Son Alex Claremont-Diaz is the closest thing to a prince this side of the Atlantic. With his intrepid sister and the Veep's genius granddaughter, they're the White House Trio, a beautiful millennial marketing strategy for his mother, President Ellen Claremont. International socialite duties do have downsides—namely, when photos of a confrontation with his longtime nemesis Prince Henry at a royal wedding leak to the tabloids and threaten American/British relations. The plan for damage control: staging a fake friendship between the First Son and the Prince.

As President Claremont kicks off her reelection bid, Alex finds himself hurtling into a secret relationship with Henry that could derail the campaign and upend two nations. What is worth the sacrifice? How do you do all the good you can do? And, most importantly, how will history remember you?
General information: This book was published in May 2019 by St. Martin's Griffin.
My thoughts:
I absolutely devoured this book and I have no regrets. I read all 420 pages in a day and a half. Was it worth it? 100%.
I've been hearing so much praise about this book and I though "there's no way this can live up to the hype." But, dear reader, this book did more than live up to the hype. It EXCEEDED the hype. (*insert Andy Samberg Parks & Rec gif here*)
Seriously, I will be recommending this book to everyone, forever. I was already hyped for One Last Stop, McQuiston's next novel involving sapphics and time-travel, but now I'm even more excited.
Okay, okay, enough fangirling.
The characters. The ending. The sense of hope. The humor. Everything was full-on amazing.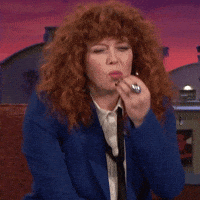 Be warned, however: homophobia was used as a plot point in this book. Understandably, considering it involves a romance between two political figures, but it might not be everyone's cup of tea.
Personally, though, it hit all the right notes and I didn't mind the use of homophobia due to the way the conflict was resolved in the end. No spoilers, of course, but I feel like the ending was saccharine and loving and heart-warming in all the best ways.
Y'all know I'm a sucker for enemies-to-lovers.
Do I recommend this book? Absolutely, to nearly everyone. Do I plan on re-reading it? YES, and soon! This is going on the list of my favorite comfort books.
How have I not read this book sooner? I don't know! Fangirl with me in the comments!